The Folly, South Stoke Road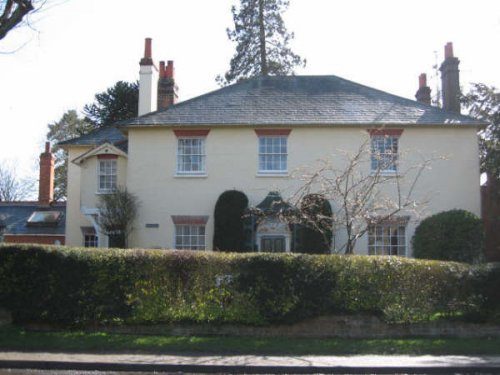 Everyone in Woodcote will know this building. It is the handsome Georgian house opposite St Leonard's Church. In the summer of 2006 it was listed by English Heritage as Grade II; so too was the barn that stands just in front and to the side of it.
With a view to forestalling any possible threat from potential developers, the Parish Council supported a request for English Heritage to inspect the Folly and its barn, and in July 2006 the adviser recommended the listing of both structures. This means that it would now be illegal to demolish or significantly alter them.
The Folly dates from the early nineteenth century, but the Inspector thought that it was probably a remodelling of an earlier house. There are bricks dated in the 1750s and 60s, and the stamp 18 WHF 05 [or 09] set in the gable wall. However, the building in its present form probably dates from between 1820 and 1840. Inside, the doors, skirting boards, shutters and staircase are all original.
The English Heritage Adviser's Report of August 2006 says of The Folly: 'This well-finished example of a villa in the late Regency style which bespeaks its brewer owners' social position survives little altered both externally and internally, and standing opposite Woodcote's listed parish church makes a considerable contribution to the character of this part of the village.'
The Department of Culture, Media and Sport has a duty to protect buildings which English Heritage advisers consider to be of special architectural or historic interest. Other listed buildings in Woodcote are
Barn south of Church Farmhouse, north side of Reading Road
Barn and kitchen garden wall south-west of the Oratory School
Church Farmhouse and barn, north side of Reading Road
Church of St Leonard, north side of South Stoke Road
Dean Farmhouse
Granary south of Church Farmhouse, north side of Reading Road
Pickets Cottage, west side of Behoes Lane
Pillar piscina, Church of St Leonard
The Oratory School, south side of A4074
Toggs Cottage and Weevil Cottage, west side of Oxford Road.
If you have any ideas about other buildings in Woodcote which you would like to see preserved, do contact the Woodcote Conservation Group.
Further details of Listed Buildings in South Oxfordshire can be found on the SODC website – www.southoxon.gov.uk For more information on Listed Buildings in general go to www.english-heritage.org.uk
Copyright © Woodcote Conservation Group 2020