COVID-19 Statement: During this difficult period the WCG has cancelled all events and collection of membership subs until further notice. Please do send us any interesting sightings that you see or hear during your excercise and we will record them under the "Recent Sightings" section
NEWS 12 October 2020
We're delighted to announce that Prof John Sumpter OBE, founder of the Henley Toad Patrol, will be guest speaker at our AGM on Thursday 12th November.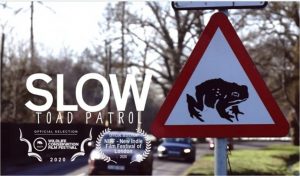 Hot on the heels of its success at one of the biggest wildlife film festivals in the world the 'Wildlife Conservation Film Festival', we will also be screening 'SLOW: Toad Patrol'.  Made by Chris Suddaby & Ernesta Gempler, this is a thoughtful and uplifting film about the long-running Henley Toad Patrol on the busy A4155 Henley to Marlow road.  This 30 minute film will undoubtedly inspire you to grab your coat, a bucket, a torch and lend a hand at Woodcote's Toad Patrol by the Greenmoor Ponds next spring.
This year's AGM will be online via Zoom so if you would like to attend, please email info@woodcotecg.org.uk or send us a message via our new website https://woodcotecg.org.uk/  For reasons of online security, joining details will only be emailed to those who have registered in advance.  WCG members will be kept up-to-date by email.
Woodcote Conservation Group is a local group of people dedicated to conserving the natural features in and around the village of Woodcote, located in the Chilterns hills of South Oxfordshire
Our village lies some 170 metres above sea-level at the south-western end of the Chiltern Hills, four miles from the point where the River Thames flows through the Goring Gap. Situated in the Chilterns Area of Outstanding Natural Beauty, it is surrounded by beechwoods and the farmland that drops down towards the river valley
The Woodcote Conservation Group is involved in maintaining and protecting the characteristic features of this environment, and in promoting awareness and appreciation of our local plants, wildlife and habitats. We organise regular working-parties and natural history walks, help out with national and local surveys, and hold public talks on topics of local environmental interest
New members are always welcome: whether you want to get involved in pond maintenance, try your hand at some hedgelaying, take part in one of our natural history surveys, or simply show your support for our activities, do join us!
It's not all hard work!
---
We also organise social events, for example Members of the Conservation Group on the Summer 'Walking Party' to the Black Horse pub in Checkendon
Woodcote through the seasons
Our Favourite Places